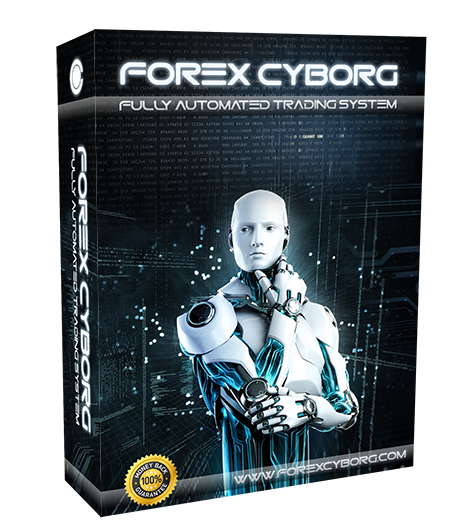 | | |
| --- | --- |
| Rating total: | |
| Backtests: | |
| Live performance: | |
| Risk control: | |
| Customizability: | |
| Price: | |
| | |
| --- | --- |
| Vendor link | Price: | 499€ (2019.08.28) |
| Trading strategy: | Night Scalper |
| Vendor live account: | Yes |
| Own live account: | Yes |
| Latest tested version: | v1.3 |
| Latest tested date: | 2019.08.28 |
| Risk factors: | News, flash crashes |
---
Forex Cyborg is a multicurrency (pre-)asian scalper that trade up to 20 currency pairs. It opens trades between 18:30-23:30 GMT.
Forex Cyborg use TP and SL (50 - 135 pips depending on the chosen pair) to secure all trades, but the most trades are closed before one of these targets are reached. It use 5 different exit logics to find a good exit point.
It opens max. 1 position per currency pair and comes with an innovative risk management that restricts the number of open positions of correlating pairs. With the provided default settings (= max. two correlated positions per currency) it is impossible for the EA to have more than two short or long positions in one and the same currency open at the same time, e.g. if the EA is short in AUDCAD and AUDCHF it cannot be short in AUDUSD or long in EURAUD until one of the open trades is closed.
Forex Cyborg does not use any kind of grid or martingale.
The money management options are fixed lot sizes, a risk per trade or a percentage of the balance.
All trading parameters are managed internally whereby the user can choose between normal and conservative settings.
Our opinion
Forex Cyborg proved his profitability in the past years. What we like are the relative high pip count for a scalper. However, we are missing a news filter. Flash crashes, like the one you can see in the myfxbook history in january 2019, can produce significant losses.
---
---
---
Portfolio backtest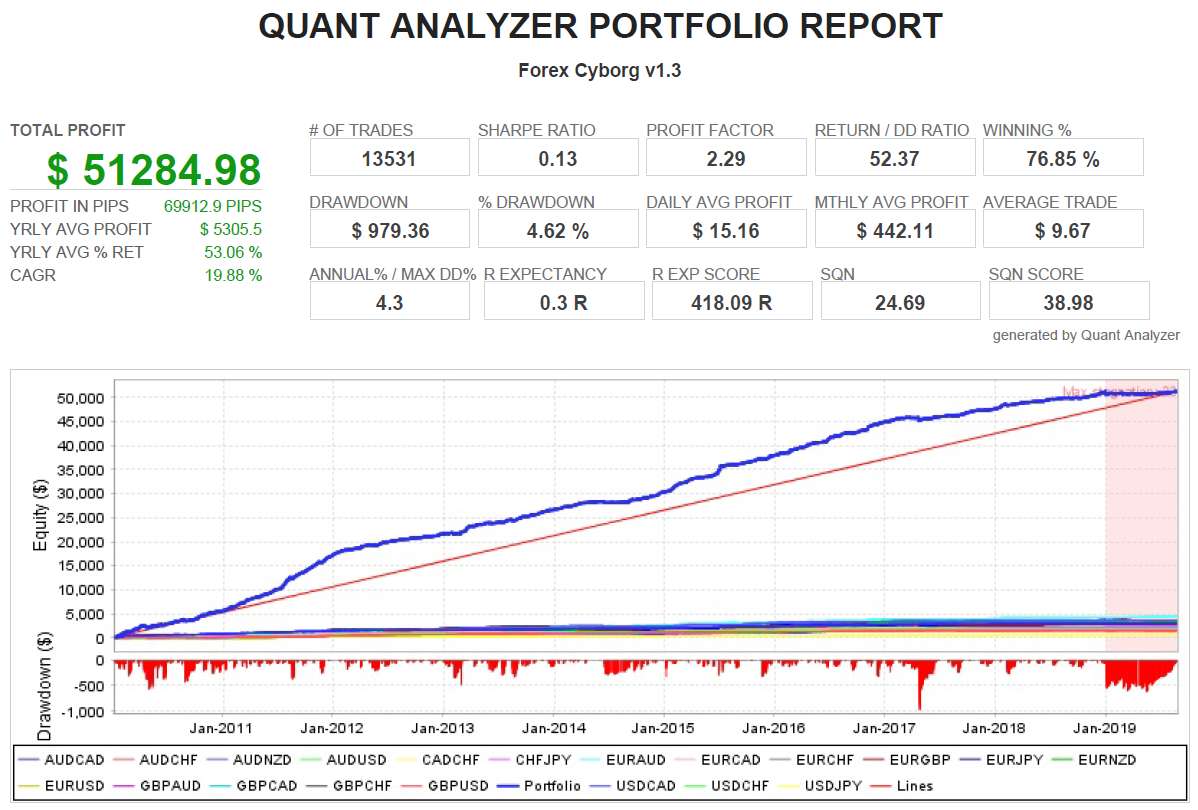 ---
---
Latest EA reviews
---
An EA that is developed by Generic Machine Learning. Check it out
---
A momentum / trend following strategy with good and stable backtests.
---
A very promissing EA that trades intraday pullbacks on a impressive number of 28 pairs.
---
A cheap night scalper with promising backtests. Check it out.
---
A S/R scalper for the EURUSD pair with an impressive backtest.
---
An asian scalper with a 4 years old live account. Check out our review
---
A trend follwing system with inconsistent backtests.
---
Promising new Asian scalper with good live results. Check out our review.
---
A martingale system which survived astonishing long in live trading
---
A trend / counter trend system that trades 31 different pairs. Check it out
---
A successful trend following EA with nearly two years of live history. Check out our review.
---
A quite cheap intraday scalper for the NZDUSD. Is it worth the money? Check it out.
---
A counter-trend system with inconsistent backtests
---
A combination of a momentum based strategy and an SR level breakout system
---
An aggressive intraday counter-trend scalper on M1 time frame
---
---
Want to start trading on a live or demo account?
Be aware that most retail traders (usually around 60-80%) lose money. Please consider whether you can afford to take the risk of losing your money.