EA review - Momentum EA BOA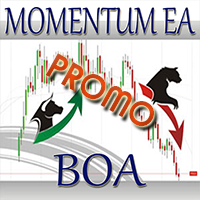 | | |
| --- | --- |
| Rating total: | |
| Backtests: | |
| Live performance: | |
| Risk control: | |
| Customizability: | |
| Price: | |
| | |
| --- | --- |
| Vendor link | Price: | $350 (2020.01.03) |
| Trading strategy: | Momentum |
| Vendor live account: | Yes |
| Own live account: | No |
| Latest tested version: | v3.1 |
| Latest tested date: | 2019.11.06 |
| Risk factors: | False breakouts, zig zag movements |
---
Momentum EA BOA follows a typical impulse/momentum strategy that enters into trend direction after a strong initial price movement.
It opens multiple trades in the direction of the trend. The trades will either hit take profit or stop loss, or the EA will close the group of trades when it exceeds a certain profit. If there is a reversal in the trend, it will not add extra trades.
In case of a strong reversal, Momentum EA BOA will open multiple trades in the reversal trend direction.
It does not use any kind of grid or martingale and adds stop losses to every trade.
While Momentum EA (without BOA) is a fully customizable EA, this EA from the same author provides only a few basic settings. The presets for each pair are stored inside the EA. Using a OneChart setup makes it easy to install and update the EA.
The supported pairs are: EURUSD, GBPUSD, USDCHF, EURGBP, AUDUSD, USDJPY, EURJPY, GBPJPY, EURAUD, NZDUSD, EURCAD, USDCAD, AUDJPY and XAUUSD
The backtests show promising results. The current live account is still quite new. Our rating will be updated once there is a longer live account history.
Our opinion
Between 2018-2019 the market were uncomfortable for this kind of strategy. Some live accounts disappeared here and new ones were opened. The strategy has to proof that it can be profitable in the long term on live accounts too.
---
---
---
Portfolio backtest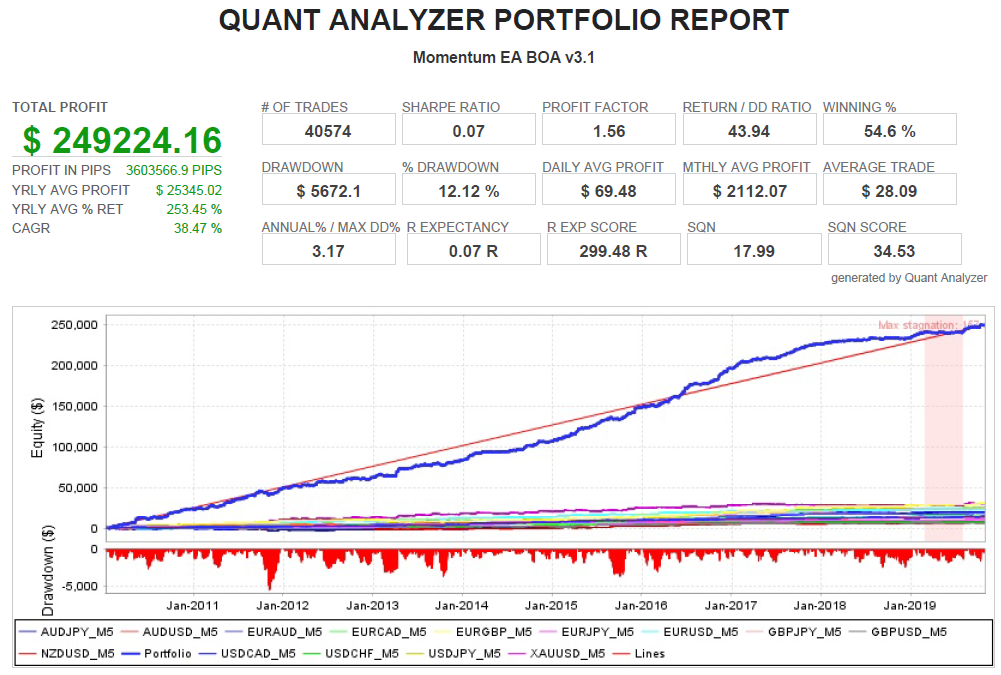 ---
---
Latest EA reviews
---
An EA that is developed by Generic Machine Learning. Check it out
---
A momentum / trend following strategy with good and stable backtests.
---
A very promissing EA that trades intraday pullbacks on a impressive number of 28 pairs.
---
A cheap night scalper with promising backtests. Check it out.
---
A S/R scalper for the EURUSD pair with an impressive backtest.
---
An asian scalper with a 4 years old live account. Check out our review
---
A trend follwing system with inconsistent backtests.
---
Promising new Asian scalper with good live results. Check out our review.
---
A martingale system which survived astonishing long in live trading
---
A trend / counter trend system that trades 31 different pairs. Check it out
---
A successful trend following EA with nearly two years of live history. Check out our review.
---
A quite cheap intraday scalper for the NZDUSD. Is it worth the money? Check it out.
---
A counter-trend system with inconsistent backtests
---
A combination of a momentum based strategy and an SR level breakout system
---
An aggressive intraday counter-trend scalper on M1 time frame
---
---
Want to start trading on a live or demo account?
Be aware that most retail traders (usually around 60-80%) lose money. Please consider whether you can afford to take the risk of losing your money.