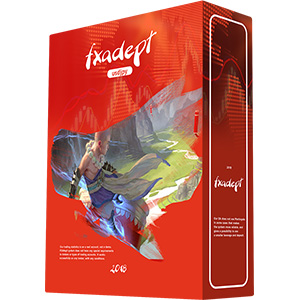 | | |
| --- | --- |
| Rating total: | |
| Backtests: | |
| Live performance: | |
| Risk control: | |
| Customizability: | |
| Price: | |
| | |
| --- | --- |
| Vendor link | Price: | $269 (2020.02.07) |
| Trading strategy: | Trend |
| Vendor live account: | Yes |
| Own live account: | No |
| Latest tested version: | 1.933 |
| Latest tested date: | 2019.10.06 |
| Risk factors: | False breakouts, zig zag movements |
---
FXAdept is a trend following expert advisor that operates on the USDJPY pair with H1 timeframe. It cannot be applied to other currency pairs. It does not use a typical grid or martingale strategy, however, it can open multiple positions in the same direction.
The vendor himself describes the entry rules this way:
"We have found a fairly accurate pattern by which we determine the main trend and open a trade always in the direction of the Market. For that we use the RSI indicator, but we use it in a non-standard way. We find long flat periods according to RSI, when the price is inside the corridor of the boundaries of RSI indicator, and at their breakdown we understand that the trend begins. Carefully selected settings and additional filters allow us to open profitable trades with a high probability in the direction of the trend."
Once a trend has been identified, a position will be opened in the direction of the trend. In some cases, depending on the price movements, it will add further positions in the direction of the trend. In case of a trend reversal, additional positions in the opposite direction can be added. While this technically represents a basket approach, the EA rarely exceeds two or three open positions at the same time.
FXAdept uses wide stop losses and take profit limits of up to several hundred pips. However, usually positions are closed before these limits are reached.
The currently available live results show a win rate of 56% after 278 trades with an average win of 35.4 pips vs. an average loss of 20.91 pips. These trades where executed within 23 months, so you can expect around 12 trades per month.
Stagnation periods of a few months can occur with this strategy, however, the current results show a quite stable strategy.
Our opinion
The strategy of FXAdept seem to be quite good and stable. However, there is no diversification with other currency pairs to reduce the stagnation periods and to get more trades. Because of a relative low price, FXAdept could be great addition to an existing portfolio.
---
---
Fixed lot size backtests
Why do we use fixed lot size (0.1 lots)? Check our educational page.
Dukascopy
2019.10.06, version 1.933
Symbol
USDJPY (US Dollar vs Japanese Yen)
Period
1 Hour (H1) 2010.01.04 00:00 - 2019.09.26 08:00 (2010.01.01 - 2019.09.27)
Model
Every tick (the most precise method based on all available least timeframes)
Parameters
AutoRisk=false; StartLot=0.1; RiskLimit=80; Slippage=20; NFA=false;
Bars in test
60765
Ticks modelled
151503829
Modelling quality
99.90%
Mismatched charts errors
0
Initial deposit
10000.00
Spread
Variable
Total net profit
12372.29
Gross profit
22853.64
Gross loss
-10481.35
Profit factor
2.18
Expected payoff
12.89
Absolute drawdown
122.61
Maximal drawdown
920.41 (4.92%)
Relative drawdown
7.32% (826.73)
Total trades
960
Short positions (won %)
480 (62.50%)
Long positions (won %)
480 (56.88%)
Profit trades (% of total)
573 (59.69%)
Loss trades (% of total)
387 (40.31%)
Largest
profit trade
154.13
loss trade
-421.17
Average
profit trade
39.88
loss trade
-27.08
Maximum
consecutive wins (profit in money)
15 (535.19)
consecutive losses (loss in money)
9 (-240.98)
Maximal
consecutive profit (count of wins)
535.19 (15)
consecutive loss (count of losses)
-441.17 (3)
Average
consecutive wins
2
consecutive losses
2
---
---
Latest EA reviews
---
An EA that is developed by Generic Machine Learning. Check it out
---
A momentum / trend following strategy with good and stable backtests.
---
A very promissing EA that trades intraday pullbacks on a impressive number of 28 pairs.
---
A cheap night scalper with promising backtests. Check it out.
---
A S/R scalper for the EURUSD pair with an impressive backtest.
---
An asian scalper with a 4 years old live account. Check out our review
---
A trend follwing system with inconsistent backtests.
---
Promising new Asian scalper with good live results. Check out our review.
---
A martingale system which survived astonishing long in live trading
---
A trend / counter trend system that trades 31 different pairs. Check it out
---
A successful trend following EA with nearly two years of live history. Check out our review.
---
A quite cheap intraday scalper for the NZDUSD. Is it worth the money? Check it out.
---
A counter-trend system with inconsistent backtests
---
A combination of a momentum based strategy and an SR level breakout system
---
An aggressive intraday counter-trend scalper on M1 time frame
---
---
Want to start trading on a live or demo account?
Be aware that most retail traders (usually around 60-80%) lose money. Please consider whether you can afford to take the risk of losing your money.