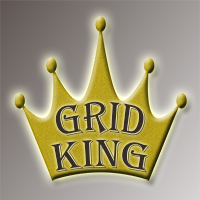 | | |
| --- | --- |
| Rating total: | |
| Backtests: | |
| Live performance: | |
| Risk control: | |
| Customizability: | |
| Price: | |
| | |
| --- | --- |
| Vendor link | Price: | $349 (2023.05.02) |
| Trading strategy: | Trend, Counter-Trend, Grid, Martingale |
| Vendor live account: | Yes |
| Own live account: | Yes |
| Latest tested version: | v6.96 |
| Latest tested date: | 2019.08.07 |
| Risk factors: | Strong trends without retrace |
---
The EA seller calls this system a "revolution in grid trading". In fact this grid EA does not open positions endlessly (until a margin call), like most other grid EAs. However, the weekness of every grid strategy are strong movements in one direction. This is the weekness of Grid King too.

Beside this fact, Grid King has a been optimized and tested for currently 29 currency pairs with up to 19 years of history data.
The entry rule is based on one of these two strategies:
"Volatility breakout" strategy, where the EA will trade in the direction of strong price movements.
"Return to Mean" strategy, where the EA will assume that price always returns to the mean.
The full version is highly customizable and comes with a bunch of "ready to go" set files.
There is also a "Lite"-version available, that does not provide this flexibility.

The EA seller implemented many good ideas into the EA, like a correlation currency filter (which can limit the number of currency pairs, that trade the same currency) or the Spread Equalizer Algorithm (S.E.A.), which dramatically decreases the impact of spread and slippage on the stability.

The highest risk of this EA is the occurence of multiple drawdowns from different symbols in a row.
Update: As you can see, our own account crashed completely even with medium risk settings and some of the seller's accounts crashed as well. Therefore, we updated the live rating to zero.
Our opinion
The backtests are showing an impressive picture. However, most live accounts seem to struggle in the current market conditions. Even with the lowest risk settings, this EA can produce a drawdown of over 1.500€ for a single basket that end up in a stop loss. In case of 2-3 stop losses in a row, this strategy would need a deposit of over 5.000€. Update: After seeing multiple accounts crashing to -99% within a short period of time, we recommend that you be cautious about this strategy.
---
---
Fixed lot size backtests
Why do we use fixed lot size (0.1 lots)? Check our educational page.
Dukascopy
2019.08.07, version v6.96
---
Portfolio backtest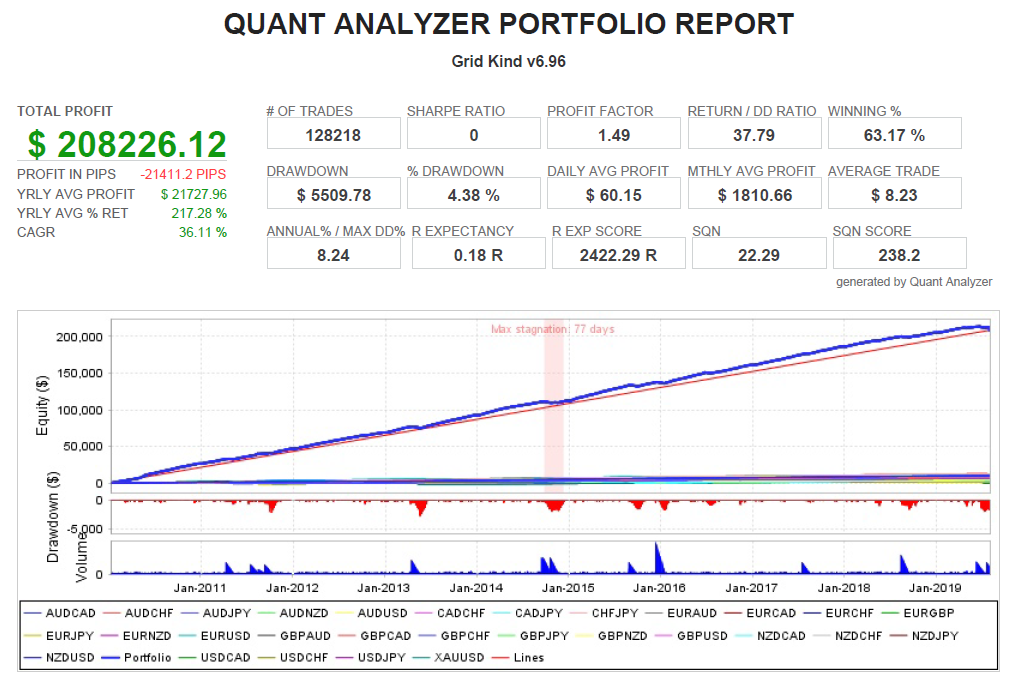 ---
---
Latest EA reviews
---
An EA that is developed by Generic Machine Learning. Check it out
---
A momentum / trend following strategy with good and stable backtests.
---
A very promissing EA that trades intraday pullbacks on a impressive number of 28 pairs.
---
A cheap night scalper with promising backtests. Check it out.
---
A S/R scalper for the EURUSD pair with an impressive backtest.
---
An asian scalper with a 4 years old live account. Check out our review
---
A trend follwing system with inconsistent backtests.
---
Promising new Asian scalper with good live results. Check out our review.
---
A martingale system which survived astonishing long in live trading
---
A trend / counter trend system that trades 31 different pairs. Check it out
---
A successful trend following EA with nearly two years of live history. Check out our review.
---
A quite cheap intraday scalper for the NZDUSD. Is it worth the money? Check it out.
---
A counter-trend system with inconsistent backtests
---
A combination of a momentum based strategy and an SR level breakout system
---
An aggressive intraday counter-trend scalper on M1 time frame
---
---
Want to start trading on a live or demo account?
Be aware that most retail traders (usually around 60-80%) lose money. Please consider whether you can afford to take the risk of losing your money.