EA review - NightVision EA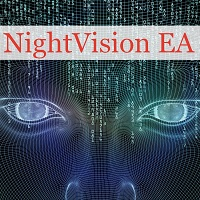 | | |
| --- | --- |
| Rating total: | |
| Backtests: | |
| Live performance: | |
| Risk control: | |
| Customizability: | |
| Price: | |
| | |
| --- | --- |
| Vendor link | Price: | $626 (2020.02.14) |
| Trading strategy: | Night Scalper |
| Vendor live account: | Yes |
| Own live account: | No |
| Latest tested version: | 4.2 |
| Latest tested date: | 2019.09.05 |
| Risk factors: | Weekend gaps, calendar news, breaking news |
---
NightVisionEA is a night scalping EA that trades mostly around the end of the American session. However, some of the backtests, like the one for USDCAD, also show a few trades during the European session. Judging from the visual MT4 tester, the EA seems to be using a bollinger band indicator for entry signals (probably combined with additional filters).
Some of the pairs only open trades Friday and Monday, so the weekend trading is a great part of the total profit. In backtests weekend gaps are also a often a source of over-optimization because small changes in entry filters determine whether or not a trade is entered on Friday, which can potentially lead to large differences in profit if there is a weekend gap. Friday trading can be disabled via the settings. Then the total profit of the portfolio backtest is almost 40% smaller, but the backtests still look good. We added backtests without Friday trading to the set of backtests below (only for version 4.0).
Our opinion
The backtests look really good and the live performance so far is also great. However, it does not offer additional protection via a news filter and much of the backtest profit was done by opening trades on Fridays, which means that there is an increased risk of larger losses due to weekend gaps. Additionally, the occurence of a few trades outside of the typical night scalper hours should be explained in the EA description. But for those, who are willing to take the risk, NightVision EA might be a good addition to the EA portfolio with conservative risk settings.
---
---
---
Portfolio backtest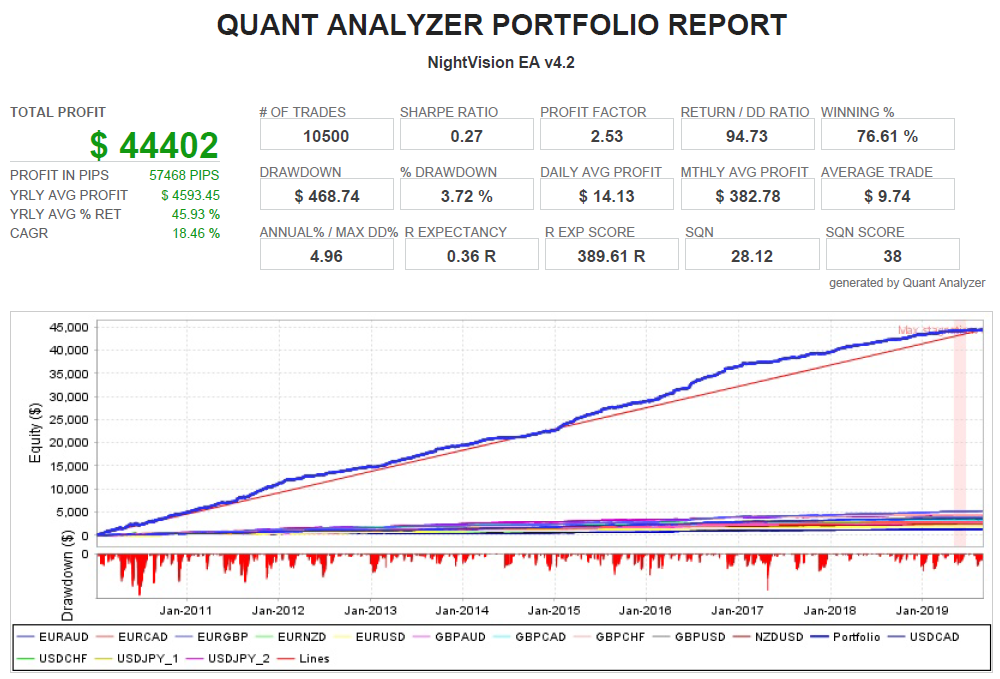 ---
---
Latest EA reviews
---
An EA that is developed by Generic Machine Learning. Check it out
---
A momentum / trend following strategy with good and stable backtests.
---
A very promissing EA that trades intraday pullbacks on a impressive number of 28 pairs.
---
A cheap night scalper with promising backtests. Check it out.
---
A S/R scalper for the EURUSD pair with an impressive backtest.
---
An asian scalper with a 4 years old live account. Check out our review
---
A trend follwing system with inconsistent backtests.
---
Promising new Asian scalper with good live results. Check out our review.
---
A martingale system which survived astonishing long in live trading
---
A trend / counter trend system that trades 31 different pairs. Check it out
---
A successful trend following EA with nearly two years of live history. Check out our review.
---
A quite cheap intraday scalper for the NZDUSD. Is it worth the money? Check it out.
---
A counter-trend system with inconsistent backtests
---
A combination of a momentum based strategy and an SR level breakout system
---
An aggressive intraday counter-trend scalper on M1 time frame
---
Comments
No comments yet.
Add a comment:
---
Want to start trading on a live or demo account?