EA review - TwilightTrade SEES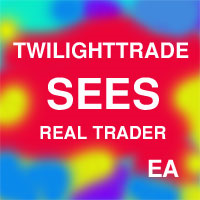 | | |
| --- | --- |
| Rating total: | |
| Backtests: | |
| Live performance: | |
| Risk control: | |
| Customizability: | |
| Price: | |
| | |
| --- | --- |
| Vendor link | Price: | $1000 (2019.09.03) |
| Trading strategy: | Counter-Trend, Grid, S/R levels |
| Vendor live account: | Yes |
| Own live account: | No |
| Latest tested version: | 17.87 |
| Latest tested date: | 2019.09.03 |
| Risk factors: | Extended trends without reversal |
---
TwilightTrade SEES combines different approaches like level trading, price action and various indicators, for example multiple moving averages.
The EA does not offer much customization for the users, but it includes 10 different internally stored set files, of which 5 are monitored in live signals from the author with good performance.
The description says that it does not use a grid logic, but in the backtest you can see that it holds up to 20 positions in the same direction for a very long time with large stop losses. Some of the set files (e.g. EURUSD 02) held positions for over 5 years and only closed them at the end of the backtest. This behavior leads in a risk profile similar to typical grid strategies, which can also be seen in the equity curve of the backtests.
Our opinion
The live performance is impressive, but such extreme gains are usually also a sign for extreme risks. In 5 out of 10 backtests the EA held position over multiple years resulting in large losses at the end, which is a warning sign against using such a strategy.
---
---
---
Portfolio backtest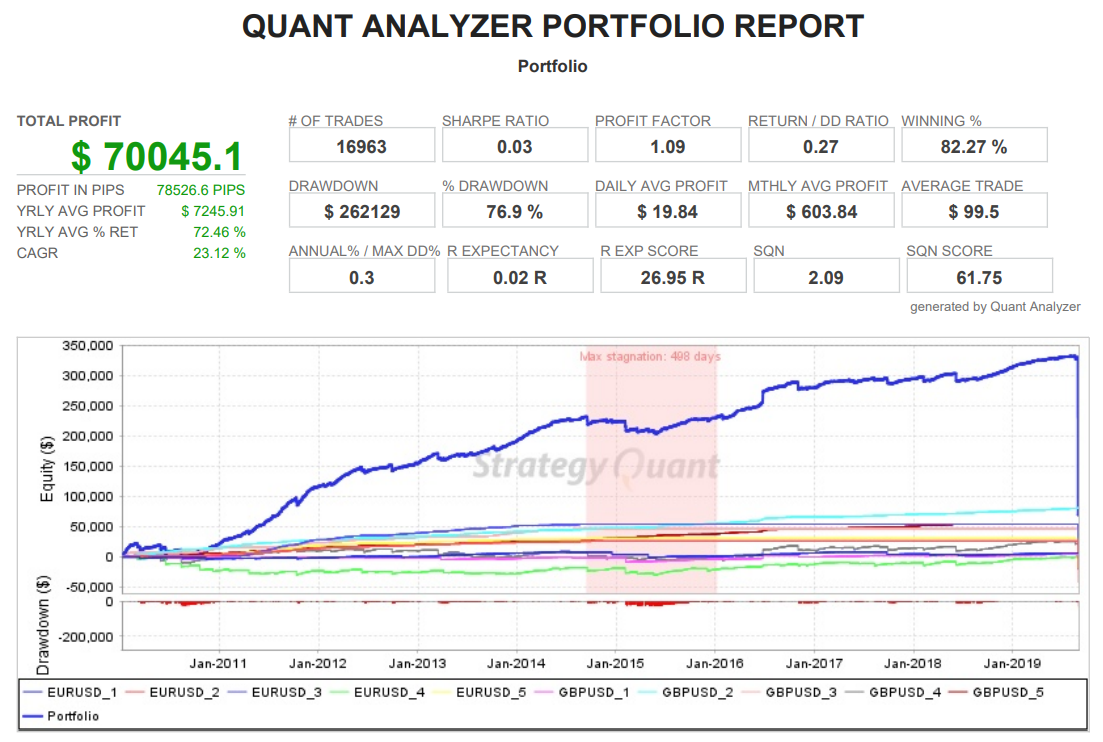 ---
---
Latest EA reviews
---
A very versatile trading system with a range of different strategies
---
A night scalper that uses up to 5 positions
---
A mean reversion system betting on low volatility during the quiet hours of the day
---
A trend-reversal system based on candlestick patters
---
A counter-trend system with long holding durations
---
A night scalper with great backtests
---
This EA usually opens the first position around swap hour and uses a small grid if the price goes against the position.
---
A momentum system that trades in trend direction after strong price movements with an reasonable price. But is it worth a purchase? Check out our review
---
A night scalper with over 2 years of live history. Check out our review here.
---
S/R level scalper
---
Multi-strategy EA for EURUSD
---
The next generation of the successful SFE Price action EA, one of the most popular trend / momentum following EAs. But is it worth the money?
---
Multicurrency Grid EA with a limited basket size on a impressive count of 29 pairs
---
A very high priced scalping EA. Is it worth the money? Find it out here
---
Asian scalper that trade directly after the rollover time
---
Comments
No comments yet.
Add a comment:
---
Want to start trading on a live or demo account?